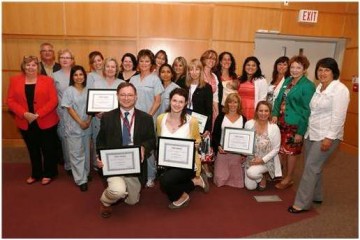 The PHSA+ Awards program was created to recognize and celebrate the passion, dedication and invaluable contributions PHSA staff make every day to PHSA's vision: Province-wide solutions. Better health.
This was the second cycle of the PHSA+ Awards – the recognition program was launched in the fall of 2012. Over the two month nomination period, PHSA received over 70 nominations from across PHSA – of which only two individuals and two teams were awarded the PHSA+ Award.
The VEC's Dr. Simon Dobson received a PHSA+ award on June 4, 2014 at the  Leadership Town Hall, held at Child and Family Research Centre.
Dr. Dobson leads the B.C. site for the national QUEST HPV study which is a multi-year study reducing the number of doses of Human Papillomavirus (HPV) vaccines from three to two doses. The study is ensuring that two doses work as well as three doses of the HPV vaccine. Dr. Dobson also heads an immunization clinic for children that have had a previous reaction to a vaccine or have allergies that may require special immunization procedures.
Image credit: David Weir